i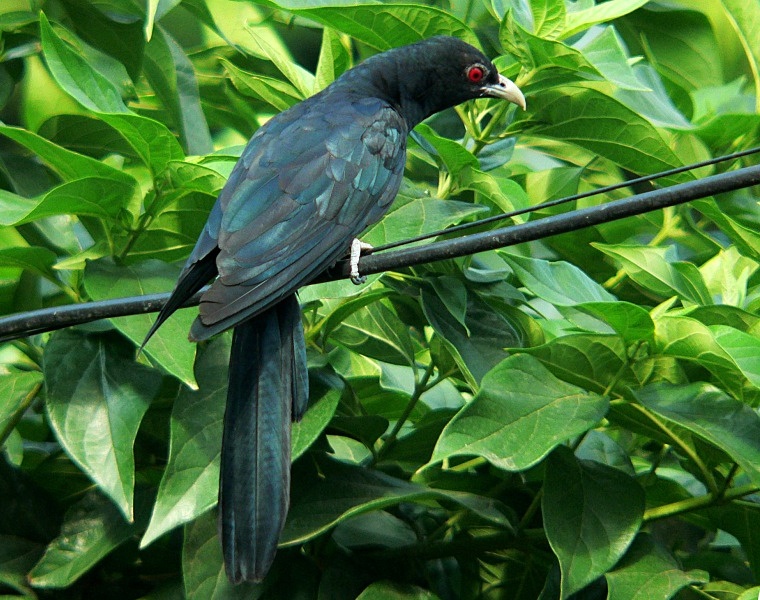 So I finally moved into my lovely flat among the treetops all excited to wake up to the call of the cuckoo through the crisp morning air. Um, didn't quite pan out the way I imagined it would.
4am:
Cooo.
Ah, the Indian koel, otherwise known as the asiatic cuckoo. How lovely.
Coo-ooo!
Oh look it's really happy. I am happy too.
Coooo-oooo!!!
Im so glad I am in this bed listening to this wonderful koel. Hi koel.
COOO-OO!!!!
Yes, very nice.
COOOOOO-OOOOOOO!!!
Err, yes I get it. Another note perhaps?
COOOOOOOOOOOO-OOOOOOOOOOOO!!!!!!!!!!!!!!!!!
Correct.
Silence
What a lovely bird. What pleasant cooing in the morning.
4:03 am

Coo
Ah poor thing, must have been alarmed last time.
Coo-oo
OK that must have been the practice note. This is quite a nice pitch indeed
COOO-OO
Yes da raja.
COOOOO-OOOO!!!
Nee paadu da kanna
COOOO-OOOOOOOOOOO!!!!
Sigh. Koel ki kook nyaari, papiha ki bol pyari. Very good. Now go away and let me sleep. OK? OK.
COOO-SHRIEEEEEEEEEEKKKKK!!
Hey!
Silence
Sleeep. Bird gone. Must sleep. Slleeeeeeep. Mmmmm.
4:05am
Coo.
Shoo birdie, enough. Papa must sleep. Go, shoo.
Coo-oo.
Dai!
COO-OO
Oh shut the hell up freakshow, or I'll wring your neck now!
COOOOOOOOOOO!!!
Whimper
COOO-OOOOOOOOOOOOO!!!
Wail. I cant take this any more
COOOOOOOOOOO OOOOOOOOO!!!!
Crash thud (chair flying out of window at source of sound)
COOOOOOOOOOOOOSHRIEEEEEEEEEEEKK!!!
Sob Sob!! Mommieeee!!
Several hours and many, MANY Coo's later:
Coo
Haha. Hello hello, what is name? I want lolipop.
COOO
Yes yes, yesterday only took headbath. Hi Snehalatha. I have 3 cans of buttermilk.
COOOOOOOOOOOOOOOOOOOO
Yaaaahahahahahaha.
COOOOOOOOOSHRIEEEEEEEEK
Hahahahaha. Subbanna, please bring my friend Prince Ivan a rosy cheeked apple and some chocolate fondue.
Yes thank you I have officially and truly gone cuckoo.
I love you, my big jamoon tree, but just let me get my hands on your little blue neck, you, you... 'orrible, 'orrible bird!
PS: For those that are curious about the title of this post, look
here